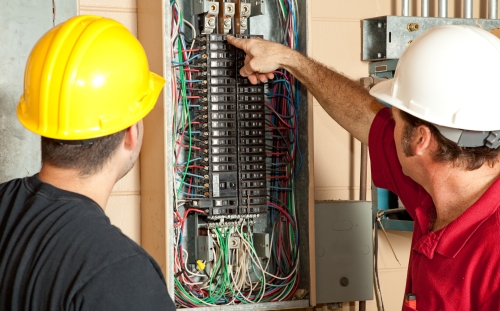 The Revolting Electrics RD Electrical
Want to hire a professional electrician? Hire the right electrician. Get in the zone. Professionals available, mindful of work – possessing the must-have skills, meeting safety regulations, installing quality parts, and repairing quickly! Prompt service, available round-the-clock, efficient work, punctual staff, helpful customer service, & highly rated!
Dismantling Your Electrical Worries:
Well trained staff, professional technicians, systemized step-by-step procedure, solving the last-minute-problems.
Professionals fully qualified, equipped with all necessary skills.
Experts with good vision can easily differentiate between the blue and red wires.
No Bad Wire, No Fire:
Fully licensed staff guaranteed professional service!
Identifying the problem!
Employing safety protocols!
Tackling with dangerous circumstances!
Assessing the voltage, and current flow!
Undergoing full house rewire, all type of electrical installation!
Rewiring, bathroom or kitchen refits, central heating control!
PAT testing, fused board changing, extra lighting points, new build, or extensions!
Testing fully, inspecting, and checking out the overall installation!
Replacing wiring and lighting!
Repairing faulty fuses!
Dealing with damaged plugs!
Providing a personalized report of the work done and dedicated workmanship.
A Shocking Experience:
Same day service!
Fully certified!
Free quotation!
Experience and versatility!
Regular performance of work!
Standard workmanship!
Competitive rates!
Trained electrical engineers!
Complete service form fuses to wiring!
Commercial lighting!
Residential electrical fits-outs!
Emergency service!
Safe and secure!
Your Safety, Our Full-Time Job:
Offering you systemized backup power system!
Aiming for achieving the maximum professional standard!
Guaranteeing that your appliance is in the safe hands!
Tackling all aspect of electrical maintenance!
Offering on the spot repairing and on-time installation!
Replacing the cables, current distributing, and fittings!
Carrying out all types of commercial and residential services!